Gloria Emile Brown BSc., LLB, MBA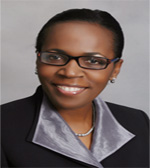 Miss Gloria Brown is an Attorney-at-Law and Senior Partner in her firm Gloria Brown & Company.
She was admitted to the Jamaican Bar in 1986, having successfully completed her Bachelor of Law Degree and Certificate in Legal Education. Gloria possesses extensive knowledge and understanding of the law and in particular conveyance and estates, where she has covered a range of issues relating to land matters. In 2000, she left the Office of the Register of Titles where she spent fourteen (14) years, to become the first ever Land Tenure Specialist in Jamaica at the Land Administration and Management Programme (LAMP). She was later promoted to Project Director. While at LAMP Gloria spear headed the drafting and eventual passing of the Land Tenure Clarification Act, which sets the legal framework for the operation of LAMP.
A proud graduate of St. Jago High School, Gloria has also excelled in academia where in addition to her legal qualifications she earned a Post Graduate Diploma in Public Sector Management and Master of Business Administration (MBA) from the University of the West Indies.
Her belief in giving of one's self and back to the community is evident in the many charitable and voluntary work in which Gloria is involved. She volunteers as an Attorney-at-Law at the Bethel Baptist Church Legal Aid Clinic, student Adviser at the University of Technology, a Member of the Sligoville All-Age School, and the Chairman of the Bog Walk/Sligoville Community Development Fund. She is also the Founder and Teacher of the Sligoville Baptist Church Institute and the Phillippo Baptist Church Legal Aid Clinic, as well as a Deacon and Lay Preacher.
E-mail: gloria@landsolutionsja.com