Land Solutions With Gloria Brown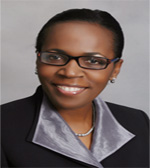 Land Solutions with Gloria Brown during 'Both sides of the Story'
Tune in Mondays 2:30 p.m. and 3:30 p.m on Power 106 FM.

Feature Profile: Land transactions, whether planning, or settling estates, buying, selling or giving land, and the myriad other conveyancing matters, involve complex legal issues, are expensive and are often quite frustrating. Hence, Power 106FM in partnership with Attorney-At-Law, Former Project Director at the Land Administration and Management Programme (LAMP) and Former Deputy Registrar of Titles, Gloria Brown, collaborated to provide a medium for Jamaicans at home and abroad to receive free expert advice concerning land issues.
'LAND SOLUTIONS' allows listeners to pose questions about land transactions and more by e-mail, text messages and phone.
About The Host: Gloria Brown is a Deacon in the Sligoville Baptist Church and an Attorney-at-Law in the firm Gloria Brown & Company. Admitted to the Jamaican Bar in 1986 she possesses extensive knowledge and understanding of Land Law. In 2000 she left the Office of Titles after fourteen (14) years to become Land Tenure Specialist to the Land Administration and Management Programme (LAMP). She was later appointed Project Director. During her 10 years at LAMP Gloria spearheaded the implementation of the land registration component of the programme which led to the passing of the Special Provisions Act, which has set the legal framework for the operations of LAMP. A proud graduate of St. Jago High School, Gloria in addition to her legal qualifications has earned a Post Graduate Diploma in Public Sector Management from MIND and an Executive Masters of Business Administration (MBA) in Finance from the University of the West Indies. Her belief in giving of self and back to the community is evident in the many charitable and voluntary activities in which she is involved. Gloria is married to Norman Mills and has one son Luke and an adopted daughter, Alecia.
To participate in the programme: Call 876-922-4112-5 or Text: 876-387-3183
To listen to the programme via phone: Call (USA) 832-551-5045 or 213- 493-0133 Call (UK) 020-3519-0145)